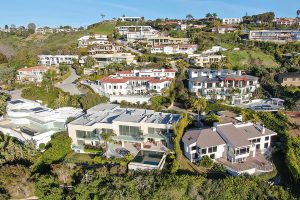 According to the Douglas Elliman Micro Market Reports for December 2022, most real estate markets in Southern California have started to experience a year-over-year decrease in sales.
As sales have slowed, median home prices have also declined in comparison to the same time last year.
Los Angeles County had a recorded total of 2445 sales in December 2022 in comparison to 4621 sales last year. Pending sales also recorded a decline from 3112 to 2174 this year, as well as the percentage under contract decreased from 27.3% to 17.8%.
The median sales price in December 2022 was $860,000, a 5.5% decrease compared to last year at $910,000. Properties for sale within Los Angeles County increased by 7% year-over-year from 11,419 to 12,221.
Douglas Elliman's Micro Market Reports for December 2022 include statistics for luxury real estate markets of Los Angeles County, Orange County, Santa Barbara County, Monterey County, Riverside County, and San Diego County.
Read the full Douglas Elliman Micro Market Report for December 2022 here.
This Market Report has been provided by
Andrew Karigan
LuxuryHomes.com Affiliate
Source:
California Luxury Micro Market Report – Real Estate Research from Karigan Residential – Douglas Elliman of California Inc.