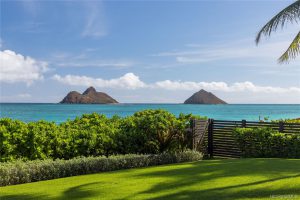 The Oahu luxury market continues to see low inventory, which has led to decreases in the number of properties sold, according to a recent luxury market update for Oahu, Hawaii.
Despite this, the market remains strong. When priced correctly, homes are selling quickly and still getting top dollar. We have had six recent record-breaking sales across neighborhoods, with another one closing next week. Working with an agent who really knows each market, does thorough research, and is skilled in pricing, is the way to be successful in today's market.
Single-Family Homes
In August, 50 homes sold at or above $1.8M This is a small decrease from August of 2021, but it is still high compared to pre-pandemic levels, when the average was 19 luxury home sales. Inventory continues to be low, so despite there being high interest from buyers, there are not enough homes available. The median price was $2,251,250 down 8.2% compared to August 2021. Homes sold after an average of on 30 days on market, tied for the fastest days on market since we started gathering data. Price per square foot was $1,034.59, down 11.5% from last year. Homes sold for 99.2% of their asking price, on average, and 46% of them sold at or above asking price.
August 2022 vs 2021 for SFH $1.8M+
#sold: 50 vs 56 in 2021 vs (10.7% decrease)
Median price: $2,251,250 vs $2,452,500 in 2021 (8.2% decrease)
DOM: 30 vs 39 in 2021 (9 days faster)
Listing/sold ratio: 99.2% vs 99.1% in 2021
% sold at or above asking: 46% at or above listing vs 50% in 2021
Price per sq ft: $1,034.59 vs $1,169.54 in 2021 (11.5% decrease)
Highest Sold Single-Family Home
Diamond Head
5 bedrooms | 3.5 baths | 5,166 square feet living | 18,136 sq ft land
Why this property is spectacular: Wake each day to mesmerizing sunrises and wrap around panoramas of lush green mountain ranges and Pacific Ocean seascapes. Situated against the slopes of iconic Diamond Head, this stately residence offers an expansive floor plan that seamlessly connect to the outdoor covered lanai with a BBQ pavilion, sun deck with tiled pool & spa, and outdoor gardens.
Sold at: $9,280,000 after 71 days on market to a local couple.
Condominiums
There were 5 luxury condo sales in August, a significant decrease from last year. Surprisingly, there were no sales at the popular buildings such as Park Lane or Waiea. As of today, there are only 4 condos for sale at Park Lane and 3 in escrow. There are 21 luxury condos in escrow across Oahu, so we can expect to see an increase in closed sales next month. The median price decreased slightly to $2,800,000, the highest since March. On average, condos received 97.6% of their asking price. There were two condos that were listed in the $1.9M range but sold for $1.7M, removing them from the luxury threshold. As mentioned earlier, smart, market-appropriate pricing is essential right now; the two condos that sold above asking price also sold much faster than the average days on market of 80 days. The average price per square foot for luxury condos was $1,687.41, a negligible increase over August 2021.
August 2022 vs 2021 for Condos $1.8M+
#sold: 5 vs 22 in 2021 (77.2% decrease)
Median price: $2,800,000 vs $2,797,500 in 2021 (no change)
DOM: 80 vs 114 in 2021 (34 days faster)
Listing/sold ratio: 97.6% vs 94.3% in 2021
% sold at or above asking: 40% at or above listing vs 18% in 2021
Price per sq ft: $1,687.41 vs $1,664.39 in 2021 (1.3% increase)
Highest Sold Condo
Ocean Villas at Turtle Bay, Kuilima
3 bedrooms | 2 baths | 1,538 square feet living
Why this property is spectacular: Immerse yourself in this lovely fully furnished 3bdrm/2bath corner end Villa with ocean views. Superb interior design & finishes, chestnut hardwood floors, travertine marble, granite counters and upgraded appliances. Located next to the newly renovated Turtle Bay Resort, play golf at the Palmer course, tennis, enjoy miles of walking trails throughout the resort, plus restaurants, spas, surfing and pristine beaches.
Sold at: $3,580,000 after 120 days on market to a couple from California.
This Market Report has been provided by
Caron B Davis, Caron B Realty International
LuxuryHomes.com Affiliate
Source:
Caron B Davis – Oahu Luxury Market Update: August 2022 Statistics & Top Sales
State Tax Office & Bureau of Conveyances