Oahu luxury real estate agent, Caron B Davis, and Luxury Homes Affiliate member summarized the recent real estate statistics for Oahu, Hawaii, with 56 luxury single-family home sales in June.
Single-Family Homes
In June, 56 luxury homes sold at or above $1.8M, although it is a slight decrease from June of 2021, it is still very high. The median price was $2,375,000, with no change compared to June 2021. Homes sold after an average of 32 days on market, 8 days faster than last June. This is the second fastest since we started tracking data in 2017. The price per square foot increased significantly to $1,063.40, up 20.8% from last year. Homes sold for 101% of their asking price, on average, and 75% of them sold at or above the asking price. This is the highest proportion of homes at or above the asking price.
#sold: 56 vs 58 in 2021 vs (3.4% decrease)
Median price: $2,375,000 vs $2,550,000 in 2021 (no change)
DOM: 32 vs 40 in 2021 (8 days faster)
Listing/sold ratio: 101.8% vs 101% in 2021
% sold at or above asking: 75% at or above listing vs 58% in 2021
Price per sq ft: $1,063.40 vs $879.78 in 2021 (20.8% increase)
Highest Sold Single-Family Home in March
Lanikai, Kailua – 2 Homes Sold Together
Total: 8 bedrooms | 8 bathrooms | 2 half baths | 8,204 square feet living | 20,111 sq ft land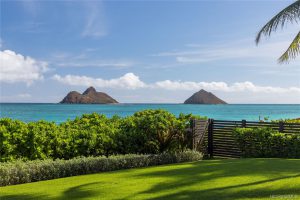 Why this property is spectacular: 2 Exquisite Modern Homes on Iconic Lanikai Beach. Expansive living spaces with floor-to-ceiling windows showcase the stunning turquoise waters, sparkling white sands & world-famous Mokulua Islands. Streamlined minimalist design & lush tropical landscaping create a private resort-like oasis.
Sold at: $23,888,888 without listing to the executive of a California venture capital firm.
Picture from Honolulu Board of Realtors
Condominiums
There were 16 luxury condo sales, up 100% over the 8 that sold in March 2021; they sold for a median price of $2,850,000. Condos received 97% of their asking price and over one-third of them sold at or above the asking price. Condos sold after 81 days on average. This is significantly faster than condos have been selling over the past few months.
Highest Sold Condo in March
Park Lane, Ala Moana
4 bedrooms | 4.5 baths | 4,200 square feet interior
Why this property is spectacular: This luxurious Park Lane condo has an expansive lanai with ocean views and a built-in BBQ station. It boasts a 2-car private garage and the building offers resort-style amenities and is moments from the beach.
Sold at: $12,150,000 after 44 days on market to an investor from Texas.
Picture from Honolulu Board of Realtors
This Market Report has been provided by
Caron B Davis, Caron B Realty International
LuxuryHomes.com Affiliate
Source:
CaronBRealty.com – Luxury Market Update for Oahu & Our Neighbor Islands: June 2022
Honolulu Board of Realtors