While single-family home sales dropped overall compared to last year, the median sale price continues to increase in Sedona's real estate market, according to RE/MAX Sedona Market Update for February 2022.
The median home price in Sedona increased to $875,000 from $650,000 in 2021, a 35% rise. The report also outlines that 2021 also recorded 623 single-family home sales compared to the all-time record of 631 single-family home sales that occurred last year, in 2020. The days on market also dropped, while the sales-to-list ratio increased.
As we start 2022, sales of single-family homes are down about 9%.
"Thanks to that abysmally low inventory of available homes – and their Median Recorded Sales Price is now at an all-time high of $1,050,000." Says the report.
However, sales of luxury homes have increased compared to this time last year, with the price per square foot now at $595.
"Because of its attractiveness to West Coast wealthy refugees, Sedona has outdone the national market by substantial margins over the past year and that is likely to persist. So, favorable auguries for sellers and challenges for buyers."
This Market Report has been provided by
Roy Grimm and Coco & Drew Clark
LuxuryHomes.com Affiliates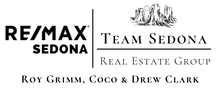 Source:
SedonaRealEstate.com – Sedona Market Update February 2022