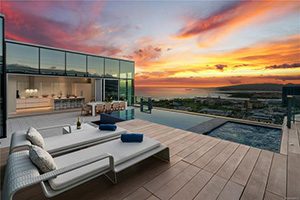 By night the city's glowing lights radiate and emit a warm stream of life upon the dark ocean waters, while by day Waikiki showcases its picturesque turquoise waters from the estate's sweeping views. From this towering living estate located in 1118 Ala Moana Boulevard, every aspect of Hawai'i living is at your fingertips.
Rivaling even the most exclusive penthouses internationally, Waiea GPH 36 symbolizes the ultimate luxury living in Honolulu. The sophisticated structuring encompasses sweeping views while the glass facade and expansive ceilings offer panoramic views. The orientation of the many rooms within this penthouse promote a livable and openly-freeing aesthetic to this class of luxury living.
With elevators opening to an angelic foyer which connects the two levels of this sky-high estate, almost 11,000 square feet of magnificent luxury living is yours. Coupled with over 1,570 square feet of deck space, a private rooftop infinity pool and spa, separate guest quarters, a wine cellar, media room, and private four-car garage, the penthouse of 1118 Ala Moana Boulevard is the top of its class.
This grand penthouse showcases the exquisite luxuriousness of internally acclaimed and award-winning architect James K.M. Cheng & WCIT Architecture, and most profoundly, this rooftop estate has the elegance of Hawai'i living at its finest.
For more information on this listing, click here!
Listed By: Caron B. Davis
Sources: