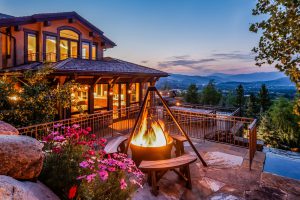 This rustic jewel, so rich in flavor, color, and the craftsmanship to which all of its splendor is composed of, rests elegantly atop a cresting mountain-like-hill overlooking the beautiful Aspen mountain views. By day the hardy brown and stony completion of the lofty estate blends very well in with the backdrop of wilderness as well as the surrounding mountains. By night, the friendly color palette of the outside, which reflects off of the invitingly warm interior lighting, mingles beautifully with the unimaginably breathtaking sunsets and sunrises of this area.
Filling an outstanding 9,995 square feet with attention to detail, this floor plan is so individually unique within each room, yet also still collectively connected throughout the entire house. Both inside and out, a similar theme flows throughout the estate; that rustic sweetness only found deep within the mountains, such as in world-renowned Aspen. The drive up to the estate immediately showcases the grandeur of the castle like manor. As you follow the extensive driveway alongside the house, you will pass underneath a bridge which connects the gatehouse to the manor, then to an extensive three-door vehicle lounge at the end. This vehicle space of a whole 747 square feet additionally heated for vehicle-care and comfort.
Situated upon a mellow slope, and encircling from all points are wild yet also manicured beds of flowers, plants, and trees, which further add to the wild yet also serene feel of the estate's exterior and surrounding woodlands. One prominent outside feature, adjacent to a spacious patio area and firepit, is a custom water feature where an enchanting waterfall cascades into a decorative pond. Perfect stones, round and smooth, almost unnatural, create the stream-fall bed, while stone statues of bears nestle nearby, showcasing nature in this timeless fashion.
Continuing along the intriguing iron railings, finely finished wood pillars and natural mosaics of stone flooring steps lays the front doors. The grand entrance is defined by magnificent doors and chandelier accenting, artfully designed, giving a sneak peek to what lays beyond. Upon entering the estate you will find one of the main living rooms, crafted with cool stone as flooring and light plaster walls and adorned with a wood crested-vaulted style ceiling. This comely space will fill you with warmth and comfort, for attributes such as a dazzling carpet, plush furniture, decorative hearth and diverse murals bring this area to life in a cozy manner. In many of the rooms, bedrooms or community spaces alike, for the colder months the hearths and closed windows keep the warmth within. Though in the warmer months these spanning windows can be opened up or converted to doors to let the sweet mountain air pour in.
Turning the other direction to the left as you come up the grand stone stairs, the kitchen, dining room and other living spaces can be found. The kitchen in itself is designed with beautiful earth-toned marble counter-tops covering the perimeter and central island, while dark wooden cabinets and artistically ornate chandeliers act as an accent. This large living space, a spanning area perfect for grand cooking-schemes, is also accompanied by a kitchen-side living room making this space appropriate for entertaining large groups as well as intimate family gatherings. A dining room is also located nearby with spanning views to the outside wilderness for a more formal occasion.
Individually unique rooms in style and complexion continue throughout this exuberant manor and can be found branching off the main corridors. One of such rooms is a parlor room located just off from the main upper level living room. Deep blue walls elude a sophisticated setting, while select pieces of matching blue furniture invite you to sit down, relax and enjoy a nicely aged scotch or whiskey. And what is rustic grandeur without wine? Thankfully a corridor leads you through the base level of the home to a magnificent, top-of-the-line wine cellar with space for a very extensive array of wine and other spirited beverages.
Downstairs many more corridors lead off in all directions. One being a massive movie room designed to have comfort and cinematic ambiance of the highest grandeur. While down the hall you will find a fair sized game room featuring a pool, foosball, and shuffleboard table great for entertaining large groups. Two finely crafted bathrooms, can also be found on this lower level of this rustic estate, like those found within a renowned spa, each elegantly giving off their own flare and call for comely attention.
One of the more signature rooms to be noted of is the master bedroom upon the uppermost level of the manor. Stone flooring, cool and smooth, brings to light the implemented glass sealed hearth and the bed befit for royalty. An overhanging chandelier-light fixture, suspends from the center of the vaulted ceiling, looking warm and bright like the sun. The bathroom adjoining this masterful bedroom features white marble flooring, furnished stone walling and plaster white ceiling, alongside blue glass doors and windows. This cool setting is a perfect place to enjoy a hot steam shower in the massive, 2-person bathing quarters.
Four more bedrooms are located throughout the estate, all unique, all with adjoining en-suite bathrooms. Additionally, an elevator gives access to all three levels of the manor. A large 3,500 square feet of deck space highlights this rustic castle, creating an additional space for outside relaxation and pleasure. A hot tub can also be located on the back outdoor patio alongside the cascading falls and pond, a great area for relaxing outside at anytime of the year. Throughout this magical mountain estate, both outdoor and indoor living spaces create a luxurious, year-round escape like no other. For more information on this luxurious property, please view the listing here!
Listed By: Craig Morris
Sources: