Numerous studies and reports have told Vancouverites time and time again what they already know: the Vancouver housing market is extremely expensive. But a report almost 40 years in the making shows just how bad the housing market has become recently.

Every month since 1977, the Real Estate Board of Greater Vancouver has recorded the average prices of properties in the region encircled by Whistler, Squamish, Powell River and Maple Ridge.
The data reveals that the average price of a single-family detached home in Greater Vancouver has increased as much in the past few months as it did in almost a quarter of a century.
It took 24 years—February 1981 to August 2005—for the value to increase by $420,000, but it has only taken from last September to January this year to see the same increase in price. The average price in September was $1.4 million, $1.6 million in October, $1.7 million in December, and $1.8 million in January.
The chart also illustrates the momentum the housing market has picked up through the years. Concerns were first raised in 1981 when the price of an average home doubled from the previous year, to $180,000. While it took until 2005 for the value to climb to $600,000, prices jumped to $1 million in just the next five years. By March 2015, they jumped another $400,000 for an average price of $1.4 million. And then it has taken just a few months to reach nearly $2 million.
It is thought that detached homes have skyrocketed in value due to a demand for luxury property. They are also appealing because they usually turn a better profit than attached homes such as apartments or townhomes, whether through development or through the potential for more affluent renters.
Finance Minister Mike De Jong has insisted that things are not as bad as they seem if attached homes are included in the real estate discussion, citing that 76 percent of all housing units sold in Metro Vancouver last year went for less than $1 million. Indeed, attached homes have seen a much slower rise in value than detached homes. The average price of detached homes has soared 159 percent in the last decade, whereas apartments and attached homes have grown just 61 and 81 percent, respectively.
Nevertheless, the unaffordability of the detached home market may have a spillover effect onto the attached home market. In just the last six months, its value has risen by more than $500,000.
However, it is not likely that Vancouverites will see a change any time soon. The Finance Minister has stated that it is unreasonable for the provincial government to change housing policies in British Columbia for the benefit of just one area.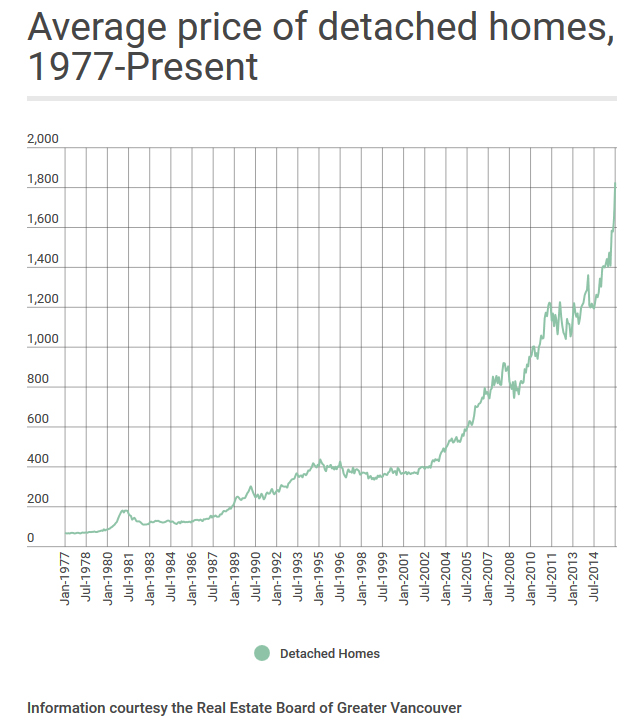 Source: Global BC News